Breath deeply in our SPA & wellness areas
Surrender to a world of relaxation – for those who seek recuperation, our Hotel Erzherzog Johann offers a paradise for the senses spanning 1000m2 on two levels. Our guests can expect wellness & harmony of the highest order in our SKY SPA with indoor pool, outdoor pool and organic, Alpine herbal sauna on the roof.
A few floors below, you'll find the sensual Johann SPA with therapy rooms for beauty, packs, full-body peels and massages, as well as a comfortable lounging area, fitness equipment and another sauna and steam baths.
Thanks to the herbs and curative plants from the surrounding mountain countryside, our AlmYURVEDA treatments will get your body's energies flowing again and provide a harmonious atmosphere on the basis of the 3 principals of Vata, Pitta & Kapha.

For absolute relaxation...
...on your wellness holiday, you'll find a wide range of services in terms of facial and beauty treatments ranging from diverse massages right through to peels & packs. Our friendly, well-trained experts will be your competent guides on your journey to greater well-being & deeper relaxation.
With our weekly alternating Fit & Mental programme you have the opportunity to stay active while on your dreamy Alpine holiday. Depending on the time of year, there is something for everyone, whether its out in the fresh air hiking & Nordic Walking or doing water gymnastics in our Johann SPA.
Just enjoy
at Hotel Erzherzog Johann
In your room, you'll find our bath bag packed with bath towels, bathrobe and bath slippers. The bathrobe and bath towels are provided to you free of charge during your stay for your SPA, sauna or pool visits. For the sake of the environment, you can pick up bath slippers at the reception if required.
Our bath bag and waffle hand towel can also be bought at reception for € 35,00 per item.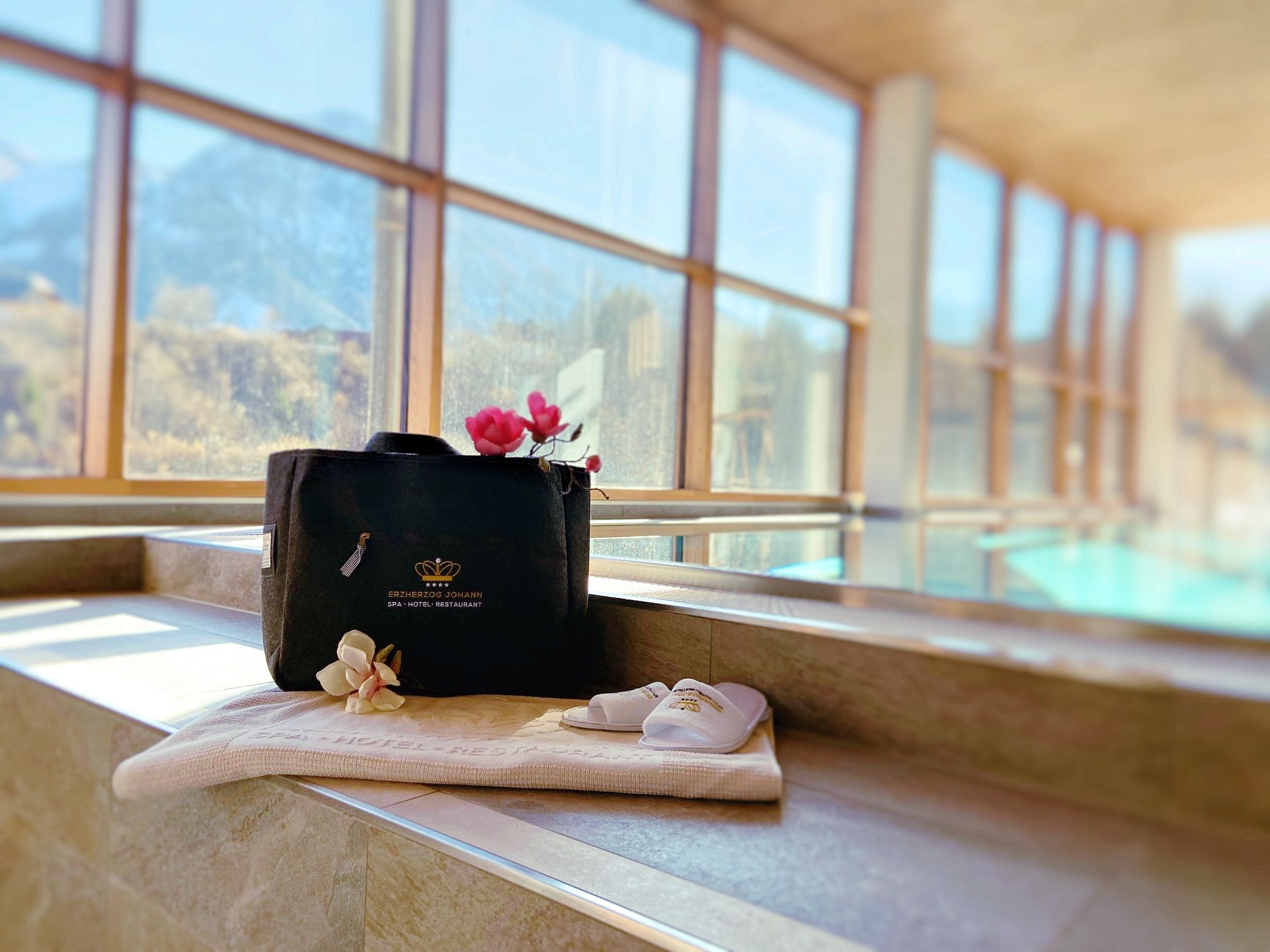 "Ein wunderschönes SPA Hotel im Zentrum von Bad Aussee – SPA-Bereich traumhaft, feinste steirische Herzlichkeit, exzellentes Essen – wir kommen gerne wieder."
Karin Schweinegger, Wien
"Thank you Hotel staff! This was my best hotel experience ever. The nicest SPA. Two of the finest meals I've- had. I'm refreshed! I appreciate it."
Mark K.
"3 Tage Wellness im JOHANN verbunden mit erstklassigen Speisen aus der Hotelküche, sehr aufmerksames Service und herrlichem Herbstwetter ließen uns durchatmen und aufleben."
Mag. Norbert Erlacher
"Neben der familiären Atmosphäre und liebevollen Betreuung gefiel uns der Sky Spa im 5. Stock am besten."
Michael Graf, Niederösterreich